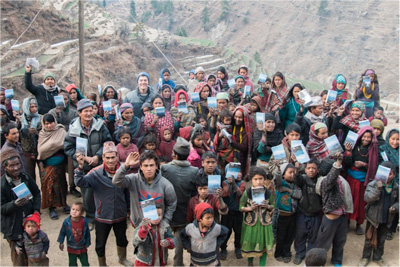 In October of last year, YWAM launched its global prayer focus, called The Invitation, by highlighting a topic near and dear to the heart of YWAM's founder, Loren Cunningham. We prayed for the translation and distribution of the Bible. To put it another way, we prayed for an end to Bible poverty. In the months since we prayed, YWAM workers have been responding in many ways. Now, in the prayer focus for March, YWAM invites you to pray for actual Bible translation and distribution initiatives happening in many parts of the world.
Pray for YWAM Blantyre, Malawi

YWAM Blantyre, Malawi was so gripped by Loren's message to end Bible poverty that while they were preparing to work with a tribe with no written scripture they realized there is Bible poverty all around them in Malawi. While there is a full Bible written in the native Chichewa language its cost is equivalent to one third of a month's wage, which is a significant barrier for people. God has given YWAM Blantyre a vision to have a copy of scripture in all three million homes in Malawi. Thus, they have begun printing the Gospel of Mark and have purchased hundreds of audio Bibles to distribute to people who can't read. They are also putting the Chichewa language edition of the Bible online.
Said Daniel Dugmore, the leader of YWAM Blantyre, "After hearing Loren speak about making Bible poverty history we realized that this is an apostolic call for this generation that we must be part of."
Watch this short video to learn more about YWAM Blantyre's Bible plan:
[vimeo id="156306850″ width="500″ height="350″]
Pray for:
Funds for YWAM Blantyre and other locations to purchase Bibles for the visions God has made known.
Effective evangelism campaigns and Bible studies to accompany Bible distribution.
Revival in Malawi.
Pray for YWAM Chiang Rai, Thailand

YWAM Chiang Rai, Thailand received two teams in January, one from Brazil and one from Kona, Hawaii. Together with the local YWAMers the teams handed out 1,000 Bibles.
The local YWAMers have taken responsibility to distribute Bibles in a village which includes 345 homes, two schools and three Buddhist temples (which happily received the Bibles). The teams witnessed healing of several people for whom they prayed and they also visited a home where they had distributed a Bible several months earlier. This family reported that since they had received the Bible their home was filled with joy and they requested more Bibles for family members.
Watch this video about the Bible distribution in Thailand:
[youtube id="A3M961_hNno" width="500″ height="350″]
Pray for:
People to read the Bibles that were distributed in January and for them to develop a true hunger for the Word of God so they will produce good fruit, seeking Jesus and leading others to Christ.
Provision for a Bible to be given to every home, to every student and to every temple in the province of Chiang Rai (approximately 600,000 Bibles, costing $1.2 million US dollars).
For YWAMers, churches and other organizations to partner together to end Bible poverty in Chiang Rai, Thailand and other Bible-less areas.
Pray for Villages in the Himalayas

YWAM Kona, Hawaii has sent 15 outreach teams to 14 countries and has delivered over 1,700 audio Bibles in 25 different languages. Their work in the Himalayas included:
Adoption of three districts that together consists of 43,000 homes in the high Himalayas. YWAM Kona partners with the local network of churches and is helping the churches go village to village bringing audio and printed Bibles. They are also implementing a survey process so they can track where the Bibles have gone and where they still need to go. Initially expected to take multiple years to complete this work, one district is almost finished!
Assisting a local man to in completing an oral to oral translation of the book of Matthew in a Bible-less language.
Pray for:
Favor with the Bible Society, the government, and wisdom on how to expand what is happening.
Other organizations to partner with YWAM so there can be adequate funding, translation, and distribution efforts to end Bible poverty.

Praise God for:
Providing partners for funding major Bible projects in the Himalayas.
Providing Bibles for all 195 people in a village and for the elder who was the first to receive Christ from that village.
The 150 people from another village who were shown the Jesus film and came back the next day to receive a Bible and to be taught a Bible study.
The man of peace who was a Hindu believer and received Christ along with his family of ten after three days of fellowship and teaching with the team.
Take Action
Sign the covenant to end Bible poverty.
Pursue opportunities to end Bible poverty within YWAM. Here is one example.
Contact the YWAM Kona Bible Team to share stories of what you are doing to end Bible poverty.
Hear Loren Cunningham speak about Ending Bible Poverty (in English, with Spanish subtitles):
[youtube id="5PLIT6XNTlo" width="500″ height="350″]
Share how God spoke to you:
Go to YWAM's Facebook page, find the post for March 10, and add a comment about how you prayed.
On YWAM's Twitter page, search for #praywithywam and tweet about your prayer time or post a picture.
Email us to let us know how you prayed. If you sense God giving you a word or a direction for YWAM's prayer, please contact us about that as well.
How We Prayed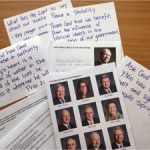 February 2016: Local Governments
YWAM Quebec, Canada prayed for reconciliation between English and French Canada, and a federal bill regarding assisted suicide for patients. YWAMers were led to wash the feet of one another. English Canadians washed the feet of the French Canadians and vice versa as a prophetic act of reconciliation.
Y360 Colorado Springs, United States prayed that local government leaders would view the four YWAM locations in Colorado Springs as an organization with relevant answers and solutions. They specifically prayed for their mayor and city council members.
A former DTS student encouraged the continued focus on operating in every sphere of society.
Prayer requests were received for the governments and people of Tasmania, Uganda and Pakistan.
An individual from Jamaica reported that he prayed for the elections in Jamaica that were to happen at the end of February and that God would be present in the plans and people leading the government.
Don't Miss The Invitation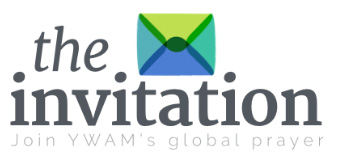 Upcoming topics:
April 14, 2016 – Global Topic: YWAM Ships
May 12, 2016 – Praying for Local Concerns
The second Thursday is just a suggestion. Feel free to pray close to that date at a time that works well for your location's schedule.
Sign up:
On ywam.org, find the "Stay Connected" box on the home page or on the right-hand column, put in your email address and click "Sign Up."
Download prayer updates in a specific language. Go to ywam.org/theinvitation. Language editions are currently available in English, Spanish, Portuguese, French, and Indonesian.