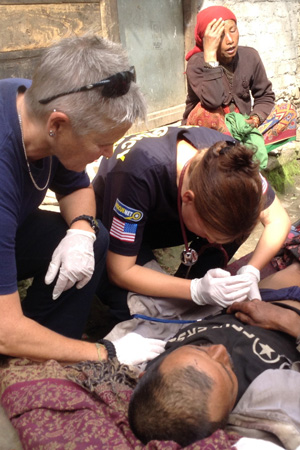 In Nepal, YWAM workers continue to care for victims of the April 25 earthquake. To support their work, please click donate now and pick "Nepal Relief" from the drop-down menu.
YWAM teams have cared for earthquake victims in a variety of ways. One team came to Kathmandu from Chiang Mai on a Discipleship Training School outreach and found themselves in the middle of the earthquake. Soon after making sure everyone on the team had survived, they set about finding out how to provide assistance to the victims of the quake. They have packaged and distributed rice to displaced families. They have also purchased and given away tarps and tents to people in need of shelter. They have also helped to clear debris off of streets.
A RescueNet team of 15 people arrived soon after the earthquake hit and they have been hard at work ever since. Part of their team traveled to the village of Khadichaur to provide medical care. At sundown when they arrived they were told about villagers high up the mountain who might need medical assistance. The team immediately set off up the mountain with a Nepali doctor and his staff. When they finally arrived at night, after a harrowing drive, they set up their clinic.
The next day, the patients arrived. Some could walk, but others had to be carried by friends or family members. The team discovered that although a whole week had gone by since the earthquake, these people still had not received medical care. The team treated fractured limbs, deep cuts that were now infected, chest injuries, and other medical needs. That day, they cared for 126 patients, and the next day they treated a further 62.
RescueNet is coordinating with the United Nations and other relief organizations to identify other places in great need. To watch an interview with Vitaliy Smolin of RescueNet, click here.
The RescueNet workers have been trained in emergency medical work, search and rescue, and other skills needed in disasters. They carry with them enough supplies to be self-sufficient for two weeks.
Other teams are arriving from other nations.
To help the YWAM teams provide emergency shelter, medical care, and food, please donate here.
Photo credits: Dayn Arnold, and RescueNet