A Different Kind of Degree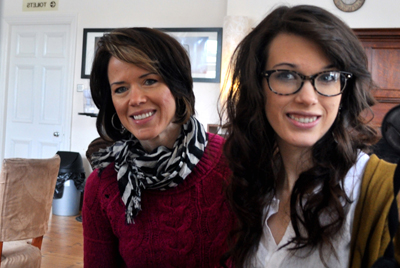 A YWAM Parent's Story
–by Angela Zimmerman
Excitement built up inside me as I was preparing for class. Spontaneous Multiplication of the Church was our topic, and our instructor that evening has proven her capability for church planting and multiplication through a simple and effective discipleship process. I wanted my daughter to come with me. I knew she would love hearing this message.
Sidra was 15 years old at the time, and somehow I just knew that mission work would tug at her heart. "Train up a child," was my core reason to encourage her to these classes, although some days she would have rather stayed home to read or draw. And it happened this way for two years each fall when our 15-week Perspective classes were in session, which I coordinated. Finally she completed the course for school credit, and then I knew she was hooked. But she was about to finish high school and wasn't interested in a conventional education.
I attended a mission conference in Ohio that year and happened to meet Loren Cunningham, the visionary and developer of Youth With A Mission. Desperate to learn ideas for the next steps in my daughter's education, I asked Loren what he suggested. "Have her take a gap year and go through a DTS," he quickly responded. I got the feeling he's been giving parents this advice for years. He explained how DTS works, gave me a color catalog of education and DTS opportunities through YWAM, and answered all my questions as if I was the only person in the room.
Sidra absorbed every page of the catalog and mapped out her plan. Her first attempt at finding a DTS failed due to a base closure, but she kept diligently searching. And with just a little help and advice from me, she decided on Perth, Australia with her outreach in Biarritz, France. It was an incredible learning experience for her both relationally and spiritually, and her maturity soared. She has stayed with YWAM for her education, traveling to many different bases around the world to tailor her Communications degree in a way that fits her best, finally achieving her Associates degree from YWAM's University of the Nations in April, 2013.
An instructor for our Perspectives course was having dinner with us one evening, and we found ourselves discussing Sidra's non-conventional path to education and missions. He looked up from his meal and asked, "So what do you think of that? Are you okay with wherever God takes her?" My answer came before I had time to think it through, "Yes," I smiled. "After all, she belongs to God, and I trust Him to lead her in the best way that glorifies Him."
_______________________________________
Angela Zimmerman is a Regional Director for Perspectives On the World Christian Movement. She lives in New Albany, Indiana with her husband and two adult children.