Life in the DTS
Want to find out what it's really like to take a Discipleship Training School? Follow Kristin on her DTS journey.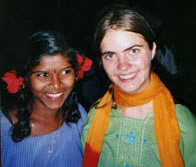 Hello. My name is Kristin. I'm from Colorado, USA. I want to invite you to join me on my journey to Australia for the lecture phase of my Discipleship Training School (DTS) and then to India for my outreach phase. During DTS, I kept a weekly journal about what I saw and heard and learned and experienced and what God did in my life.
Australia was a life-changed experience. The community living, the worship, the intense focus on God. We became family, if it be through roommate times of sharing family photos, weekend/evening escapes to the beach, or going crazy in the kitchen while doing dishes. But we also learned how to live in a way that made space for God in our lives. DTS was discipleship in every sense of the word.
India was indescribable. We spent two weeks in Mumbai working with orphans, schools, churches, prostitutes, and medical clinics. We then went across the country 30 hours by train to Chennai and worked with missionaries who established churches in Tamil-speaking villages outside the city who had never heard the gospel.