YWAM began with a vision of growth. A young man, Loren Cunningham, saw a mental picture of wave after wave of young people covering the continents. YWAM has grown dramatically since then.
A few years ago, YWAM received two more messages about growth, prophetic pictures of YWAM growing ten-fold, from 20,000 to 200,000 missionaries. YWAM's leaders prayed about these words and sensed they were from God, and in keeping with a consistent theme throughout the Bible. Said Lynn Green, one of YWAM's leaders, "Growth is just intrinsic to the kingdom of God. So growth should be a part of anything that is being done in obedience to God."
For the next three months of 2017, we invite you to join us for The Invitation, YWAM's global prayer day, and pray with us about supernatural growth. Throughout the month of February, and particularly on the prayer day on February 8, we invite you to ask God, do these messages about ten-fold growth apply to me and my community? If so, how?
To better understand what this prayer could look like, watch this video from Lynn Green, prepared specifically for The Invitation in February (for a transcript of the video, see below):
[youtube id="3O43HtEvxxg" width="500″ height="350″]
Then, after you pray, if you sense God giving you a vision about growth please share it with us. You can do so by emailing us.



In March, we will pray for these faith goals as well as for other global goals in YWAM that seek supernatural increase.
Then in April The Invitation will again focus on growth, specifically on persecution that often accompanies growth and expansion.
As we begin this season of prayer for increase, consider this promise from the apostle Paul: "He who supplies seed to the sower and bread for food will supply and multiply your seed for sowing and increase the harvest of your righteousness" (1 Corinthians 9:10).
As you prepare to pray:
If possible, try to set aside at least 30 minutes to quietly listen for God's leading.
Watch the video of Lynn Green speaking on "Praying for Growth through The Invitation".
Meditate on scripture that gives you insight into God's perspective on expansion and growth. 1 Corinthians 3:6-7: "I planted, Apollos watered, but God gave the growth. So neither he who plants nor he who waters is anything, but only God who gives the growth." Matthew 9:37-38: "Then he said to his disciples, 'The harvest is plentiful, but the laborers are few; therefore pray earnestly to the Lord of the harvest to send out laborers into his harvest.'" Matthew 13: The Parable of the Sower and the Parable of the Mustard Seed. John 15:1-17: The vine and the branches. Genesis 12:1-3: God's covenant with Abraham. Acts 2 with focus on Acts 2:47: "…praising God and having favor with all the people. And the Lord added to their number day by day those who were being saved."
Discuss: What has God already said to you about growth?

Then seek God for supernatural growth:
Pray for God to give you confidence about growth and that He would take away any fear associated with growth.
Ask God to show you if you have any pride, unrighteousness or sin to repent of before God can entrust you with growth. Take time to listen. Respond to what you hear.
Ask God to show you if these words to YWAM about growth apply to you and your location. Again, take time to listen.
If so, ask God to reveal what He would like this growth to look like. You could ask specifically about locations, spheres, ministries, people groups, partnerships, etc. Again, take an extended time to seek God's voice.
If you are praying in a group, give time for each person to report what they have sensed from God. Then pray over what you hear.
Pray for God to reveal to you and your location the action that needs to be taken now to achieve His vision for your location. Also pray for God to sustain the energy and enthusiasm for growth year after year.

Along with your prayer, these action steps can help you understand growth better and can help you take steps forward in what you believe God is leading you to do:
Watch the video from the University of the Nations Workshop in 2013 where Bruce Wilkinson challenged the group to "never be satisfied with results that do not require the intervention of God" (start at 20:15; challenge at 2:04:04).
Read "Letter from Loren, Part 2" on growth.
Read David Hamilton's "Preparing YWAM Leadership Structures" regarding preparing for 2020 and beyond.
Review YWAM's foundational values and consider how they are the guiding principles for future growth.
Conduct a retreat. Depending on where your location is at regarding visioning and planning for growth, use the suggestions for this month as a guide for your time of prayer and goal setting together.
Share the vision for growth God gives you with ministry partners from your church and other organizations. Encourage them to pray for you and encourage them to seek God regarding ten-fold growth for themselves.
Please email us with your vision, faith goals and prayer requests about growth so we can include your requests and goals in The Invitation for March.
How We Prayed
In January 2017, The Invitation focused on Unity – Building Bridges. Here are some of the prayer reports we received:
YWAM Kona, Hawaii prayed during their morning intercessory time. Among other topics, they were led to pray for unity with the persecuted church so that they would see many Muslims come to Jesus.
In response to the second-Thursday post about The Invitation, there was a lively conversation on YWAM's Facebook page about unity. In the discussion, one YWAMer cited Ephesians 4:1-6.
YWAM Tbilisi, Georgia reported on Facebook that they had a great time praying for unity among themselves, missions groups and all denominations of churches. They also noted there is much division on this topic and if we want to win their region for Christ we must come together.
A woman in Central Asia provided a description of a vision God has given her regarding many Muslims coming to faith only when there is unity and humility of the wider church.
Don't Miss The Invitation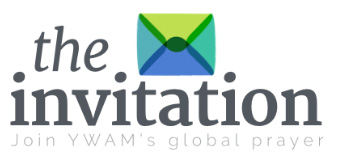 Future topics for The Invitation:
March 9, 2017 Growth: Global
April 13, 2017 Growth: Persecution
May 11, 2017 Spiritual Formation
Here's how to participate:
Transcript of Video: Lynn Green on Praying for Growth
Lynn Green: The Invitation to pray for this month of February is about growth.
Now growth is just an intrinsic part of the kingdom of God. That is implied through all of Scripture, but there's one picture in particular that I love. It's that dream that God gave king Nebuchadnezzar in Daniel 2 and Daniel interpreted it. And there is in that dream a stone that is cut out of the side of the mountain without the aid of any human agency, no hands. And the stone strikes the oppressive statue of the kingdom of mankind and the statue crumbles and the wind blows it away. And the stone grows and grows and grows until it becomes a mountain that covers the entire earth. That's such a good picture of the kingdom.
So growth should be a part of anything that is being done in obedience to God. But, God speaks specific things to us to stimulate our faith. And I want to remind you of two things that God has said to YWAM:
First of all, the original covenant, the initial covenant that gave birth to YWAM, the map of the world with the waves that God showed Loren in 1956, waves of young people. It was wave after wave after wave, then it'll stop, there may be a time where the water level goes down a bit, but then it gets higher, it gets higher, and I believe that we are ready for another big wave.
But more than that, starting several years ago God brought us a word from a prophetic teacher in YWAM about 200,000 new missionaries. And then, at the same time, a pastor who none of us knew very well wrote to Loren and said God had given him a word about ten-fold growth. And because we were around 20,000 at the time those are really strong, confirming words. And we all prayed about it and felt "yes" to that and we don't want to lose sight of that.
So that's why this Invitation is about growth. Because when God says "growth," what He wants us to do, whenever He gives us a prophetic word like that, is to test it, which we've done, and then say "Amen" and believe it and start acting in accordance with it.
So the challenge for every YWAM location that is praying into this month's Invitation is:
What is God saying to you about growth?
What would it be like to be 10 times as large, not all in one location, but for say 50 people, what would it be like to grow to 500? How many other locations should you be planting out? What other nations are you called to? What are your circuits?
So, during this time, I'd like to think that everybody in YWAM would be able to pray with confidence that God has spoken and said He wants us to grow.
So then we would say: "How?"
Does it have to do with all the spheres?
Does it have to do with the great Chinese missions movement?
Or the growth of the body of Christ in India?
Or somewhere in Africa?
Or all of the above?
What part does God have for us to play and to believe Him for, for this growth that will lead to, in the end, hundreds of thousands of new people added to the missions force? And YWAM can continue to play the role that God has for us.
So, may the Lord give you confidence that He has spoken to us about growth and lead you specifically to set goals for growth that He's given you that you can hang on to by faith and see it come to pass. God bless you as you pray.